Wall mounted air conditioning units are a widely popular option for cooling or heating indoor spaces. They are the most common type of air conditioning system in the UK, being efficient, easy to install, and affordable. If you're looking to install a wall mounted air conditioning unit for your home, shop, or office, the information below will guide you in selecting the best unit for your needs.
One of the primary advantages of wall mounted air conditioning units is that they are exceptionally quiet, making them ideal for bedrooms or other areas that require minimum noise levels. They are also incredibly energy efficient, helping to reduce your energy bills. Most modern units can also provide both cooling and heating, making them a year round solution to temperature control.
Wall mounted air conditioning units should be installed by professionals to ensure proper installation and optimal performance. They should be positioned at a high level on the wall, providing an even airflow throughout the room. With larger rooms, multiple air conditioning units may be necessary to ensure that all areas are adequately covered and no "hotspots" are created. While some installers may suggest installing one powerful unit to reduce costs, it is recommended to use multiple smaller units instead. This will ensure that the air balance is just right, eliminating gusts and reducing noise to provide the correct amount of cooling or heating.
Why Choose a wall mounted Air Con Unit
In terms of aesthetics, wall mounted air conditioning units are not necessarily the most attractive. However, brands such as Samsung and Daikin offer sleek and slimline designs that blend well with modern interiors.
Selecting the perfect wall mounted air conditioning system for your needs can be challenging, given the plethora of manufacturers worldwide. The price of a unit doesn't always reflect its technical specifications. Often, a cheaper unit is just as efficient as an expensive one and the difference in price can be attributed to the brand or aesthetics.
Below, we summarise several common wall-mounted air conditioning units to assist you in making a choice:
The Midea AG Eco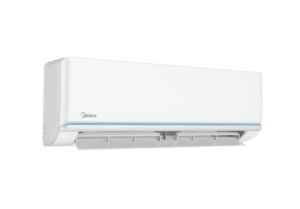 The Midea AG Eco wall mounted range offers effective heating and cooling solutions for residential or commercial spaces, featuring a stylish design. It ensures even air distribution with 3S air flow and swing feature. The turbo function quickly reaches the desired temperature, while the 'Follow Me' feature adjusts comfort based on room temperature. The outdoor unit has a self-cleaning function for improved efficiency. It provides the option of a versatile control board for seamless integration with various systems, along with the convenience of Wi-Fi control through the MSmartHome app or voice control compatibility with Google Assistant and Alexa.
The i-Cube Breezless E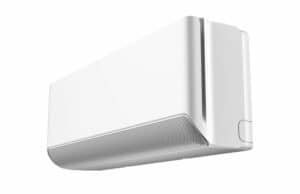 The i-Cube Breezless E is a highly efficient wall mounted unit that comes with advanced features. It has an "i-Eco dashboard" on the app for monitoring energy consumption. With rapid cooling and heating, it can quickly adjust to room temperature in just 10 minutes. The 'Follow Me' feature adjusts comfort levels based on the remote's surroundings/ additional modes include Breezeless Mode for diffusing cold airflow and Breezeway Mode for adjusting airflow direction. These units have UVC sterilisation, cold catalyst filters, and Bio (HEPA) filters. These eliminate bacteria, filter harmful gases and prevent mould growth. The i-Cube Breezeless E range offers an optional multi-function board for integration with third-party controls and Midea central central controller. They also have built-in Wi-Fi control through the MSmartHome app and support voice control with Google Assistant and Alexa.
Midea's BreezeleSS+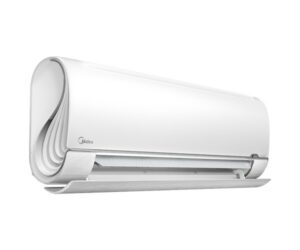 Midea's BreezeleSS+ wall mounted range delivers a comfortable cooling experience with innovative features. The TwinFlap™ technology, consisting of micro-holes, ensures gentle airflow without cold air blasts. Its unique side outlet design disperses cool air from multiple directions for even cooling. The outdoor unit's self-cleaning function enhances efficiency and durability. With a high-speed inverter compressor and wide air outlet, BreezeleSS+ cools the room rapidly in just one minute. The Economic Mode provides energy savings while maintaining comfort. The units also feature effective filters that eliminate bacteria, allergens, dust, odours and viruses. Additionally, the self-cleaning function removes condensation water and expels bacteria.
Midea Vertu Plus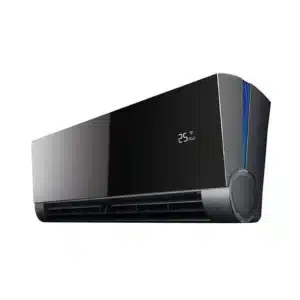 The Midea Vertu Plus wall mounted series provides outstanding energy efficiency, available in a range of 2.6kW to 4.0kW with an impressive SEER rating of 8.6 (A+++) and SCOP rating of 4.6 (A++). These stylish units feature a unique V-shaped design with a colour changing mirror finish to match the mode setting. Blue indicates cooling while orange represents heating. The intelligent control system includes a sleep function for enhanced comfort during sleep. Midea Proactive Pure technology reduces bacteria, odours, and harmful particles. This ensures a safer and cleaner indoor environment. The 'Follow Me' feature adjusts comfort levels based on the temperature surrounding the remote, while the wide-angle air flow offers horizontal and vertical auto swing up to 9 metres. Cleaning is also convenient with the easy-opening panel and hook for accessing the air filter.

Daikin Stylish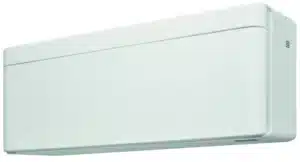 The Daikin Stylish is an energy efficient air conditioning unit with a thin, design-led wall-mount. It features an intelligent thermal sensor for even temperature distribution and flaps that direct warm or cool air where needed. It runs quietly and can be controlled via an app.
Daikin Emura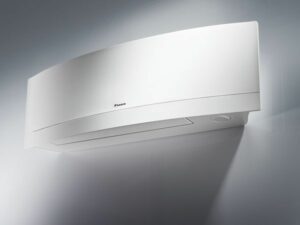 The Daikin Emura is a luxurious air conditioning unit with a third generation design that purifies the air, catches harmful substances like viruses, and is energy efficient. It can be controlled via an app or a smart home assistant.
Daikin FTXM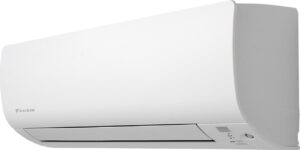 The Daikin FTXM is a discreet wall mounted air conditioning unit designed for optimal efficiency and comfort. It comes with two area motion detection sensors. It is energy efficient, practically inaudible, and has a cleaner air filtration system with Daikin's Flash Streamer technology.
Mitsubishi Electric MSZ-LN R32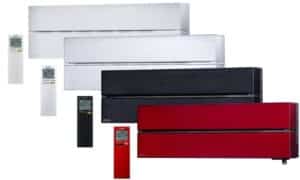 The Mitsubishi Electric MSZ-LN R32 is a wall mounted air conditioning unit with a sophisticated design and low GWP R32 refrigerant. It is energy efficient, has a 3D i-see sensor for customised comfort, built-in Wi-Fi, and a plasma quad plus filter. It also has industry leading low noise levels. The Mitsubishi Electric MSZ-EF ZEN R32 is a sleek, stylish wall mounted air conditioning unit that is energy efficient and has low noise levels.
Toshiba RAS Seiya R32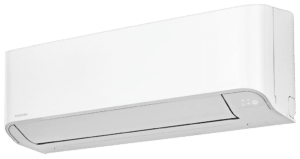 The Toshiba RAS Seiya R32 is an elegant, slimline wall mounted unit with cost effective, silent technology that used new Toshiba Inverter and compressor technology. This allows for energy efficient cooling and heating control. It has a self-cleaning function to prevent old formation and is Wi-Fi compatible.
Mitsubishi Zen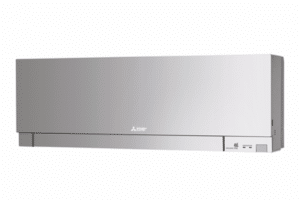 The Mitsubishi Zen is a premium wall mounted air con unit with a sophisticated, streamlined design that comes in different power options and colours. It's quiet, energy efficient, and compatible with a multi-split system.
Our conclusion
In conclusion, wall-mounted air conditioning units are an excellent solution for keeping your home or office cool and comfortable during hot weather. They offer a range of features and benefits, from energy efficiency and advanced airflow to sleek design and smart controls. With so many options available on the market today, it's important to contemplate your needs and preferences to choose the unit that is right for you. Once you have chosen the right make and model for you, you can enjoy the benefits of reliable, efficient, and stylish air conditioning all year round.